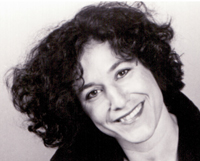 Sherry Glaser
Sherry Glaser, born and raised in New York, is the Star and author of Off-Broadways' longest running one-woman show; FAMILY SECRETS
She developed her passion for the solo performance while practicing improvisation in the early 80's in San Diego in the company of Whoopi Goldberg, Mo Gaffney and Kathy Najimy.
It seemed that much of her life was painfully hilarious so she decided with her then husband, Greg Howells, to create her first solo show; COPING She moved to L.A. in 1989 after receiving a contract from Warner Brothers Studio.

She explored the world of Sit-coms but found live original theater to be a stronger representation of her work. (In other words Hollywood didn't know what to do with her) She then went national with her show, garnering critical acclaim, including LA's Outer Critic's Circle Award, South Florida's Carbonell Award for Best Actress, NY Theatre World Award for Best Debut, a Nomination of a Drama Desk Award and LA's Ovation Award.
Sim Schuster has published Sherry's autobiography based on her Off-Broadway success FAMILY SECRETS/One Woman's look at a relatively painful subject.
In 2004 Sherry collaborated with Thais Mazur on a Theater/Dance Portrait called REMEMBER THIS ( An Intimate Portrait of War Through the Eyes of Women) which debuted in Mendocino and then went on to DANCE MISSION in San Francisco for a September 11th memorial show. Sherry was then included in Ms. Mazur's Anthology; WARRIOR MOTHERs (Rising Star Press). Sherry also contributed to Victoria Zackheims' 2007 anthology;THE OTHER WOMAN (Warner Books)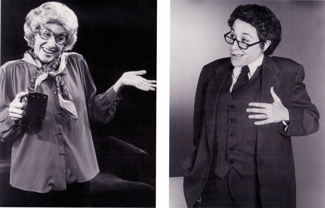 Sherry as Bev and Mort
Sherry's weekly community news commentary is heard throughout Mendocino county on a variety of channels, and digitally available where you sit.
Her other stage works include OH MY GODDESS!, and "THE BrEaST OF SHERRY GLASER" aka "ALL WE ARE SAYING". Sherry has also innovated an experimental workshop with Dr. Lauren Oliver called, "THE NATURE OF A WOMAN, A WORKSHOP IN RADICAL EMOTION".
Sherry has performed comedy and lead dramatic workshops at SAN QUENTIN FEDERAL PENITENTIARY.
Sherry is also a founding member of the Peace Activist Group; BREASTS NOT BOMBS who recently won a lawsuit against the CHP for violation of her civil rights. Sherry established legal protection for women to demtionstrate topless without being arrested in California.
Sherry is the founder of Love In It Cooperative a Medical Cannabis Dispensary in the Village of Mendocino that opened in 2011. Her adventures in the world of Cannabis led to the creation of her latest one-woman show TAKING THE HIGH ROAD (Comic Confessions from Behind the Cannabis Curtain)
Sherry has also entered the world of Stand-Up Comedy with a new work she calls, "FUNNY LOOKIN'"