Taking the High Road/Character References
A Two Act solo dramatic comedy. In the first Act Ms. Glaser resurrects three of her beloved characters: Bev, the mother in Family Secrets, Grandma Rose from Family Secrets and Miguel De'Cervantes of Oh My Goddess!


In the Second Act, Sherry takes the stage with new material derived from her life as a potwife living behind the Cannabis Curtain.


Each character has a definite yet surprising relationship to marijuana giving the show a wide range of appeal from the Hip crowd, to patients facing life threatening diseases and anyone struggling with mental health in a world gone mad.
"Glaser's ability to breathe life into her characters allowed the audience to journey with her as she morphed from person to person"
- K. Astre,
CannabisNowMagazine.com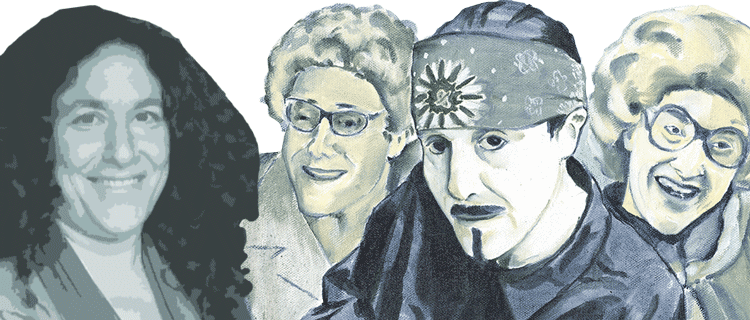 The Second Coming/Oh My Goddess!
Oh My Goddess is a Comedy of biblical proportions that tells the story of two characters. The first, Miguel De Cervantes is an everyman, a waiter who laments his servile position in life only to be chosen as the vessel for the return to earth of the Great Jewish Mother of us all, Ma.
Miguel tells of his adventures with psychics, colon hydrotherapy, and falling in love with himself in order to prepare for the second coming.
While cooking a delicious meal on stage, Ma explains that she is God's wife, returned to earth to tell her side of the creation story, one which begs the question, how can you have a father without a mother?
She delights audiences with her obvious facts of life, long hidden from the masses, and surprises us with her version of the commandments in the form of her "To Do List".


What the People Say:

"Wow wow wow wow! Yes! Really really extraordinary. A Gift. Thank you. Thank you, blessings!"
-
Paul G. Hawken, Natural Capital Institute.

"Sherry Glaser is a supremely gifted and inventive performer. Devlishly clever, continually funny, touching, and politically perceptive. She gives great theater."
-
Michael Parenti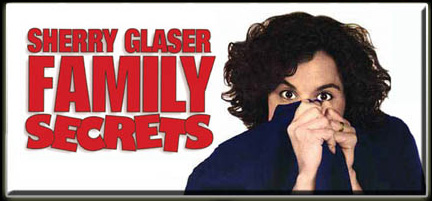 Read Reviews...
Family Secrets was written by Sherry Glaser and Gregory Howells.
It is a living portrait of the five immediate members of her family. Her father is the character of Mort Fisher, the Head of the House. She follows Mort with a portrait of her mother known as Bev, a self-admitted manic depressive navigating the trials and pressures of being the 'perfect mother'. Next we meet Kahari aka Fern, the earth mother who takes on the harrowing and hilarious adventure of home birth. We then meet Sandra, the sixteen year old sister with the short fuse and a long whine. The evening is finished with the poignant portrayal of Grandma Rose finding romance in the twilight of her life.

Family Secrets enjoys the distinction of being the longest-running one-woman show in Off-Broadway history.
Sherry played it for 15 months at the Westside Arts Theater on 43rd and 9th Ave, New York (1993-1994)
In 2005 it was revived for its tenth year anniversary in New York at the 37 Arts Theatre.
Sherry received rave reviews and theatre awards including:
LA's Outer Critics Circle Award, South Florida's Carbonell Award for Best Actress, NY Theatre World Award for Best Debut, a Nomination of a Drama Desk Award and LA's Ovation Award
Simon Schuster published Sherry's Autobiography based on her Off-Broadway success;
FAMILY SECRETS/One Woman's look at a relatively painful subject.

Sherry went on to collaborate with her husband Greg Howells on her next one-woman show Oh My Goddess before he disappeared in 1997, never to be heard from again. Article on New York Times

The BrEaST of Sherry Glaser aka All We Are Saying
This is the latest and most political of all Glaser's work. We are reunited with Miguel in this work along with two new characters, Mother Superior and Sam Slam! (Super Activist Mother)

Miguel returns as the awakened revolutionary exploring the nature of peace from a man's point of view and how one can create peace when one can't even get along with one's wife.
Through the wisdom of his dog he wakes up to what true service is and calls for a new army, one that protects women, children, and all life.

He is followed by Mother Superior, an evangelical preacher who takes the bully pulpit to the heights of truth and reconciliation.
Mother Superior calls on us all to define, live, and create peace in our daily lives. Can she get an Amen?

SAM is the most controversial and powerful character Sherry has dared to perform on stage, her obsession with saving the world must be balanced with raising two children and sustaining her marriage.
SAM will stop at nothing even baring her breasts at the White House to demonstrate that the way to peace is the realization that we are vulnerable human beings and if we respect the feminine and keep her safe, we all can survive.